Perhotelan Tel U berhasil meraih juara 2 National cooking battle di Hospitour 2018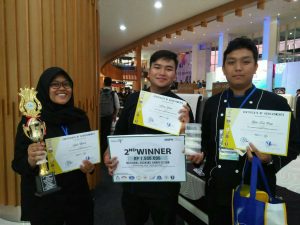 Selamat kepada Dika Dwi Panji, Derry Setiadi dan Syifa Tuffahati yang telah meraih Juara 2 National Cooking Competition pada acara Hospitour 2018 Destination yang diselenggarakan di Universitas Pelita Harapan, pada tanggal 9 – 11 april.  kompetisi ini di dikuti oleh beberapa perguruan tinggi Pariwisata di seluruh indonesia  di antaranya STTPH, Binus, STP Trisakti, Universitas Podomoro,  Telkom University, ATB, STP Mataram,  Politeknik Palembang, Untag Cirebon, Stikubank Semarang, STP Nusa Dua Bali, Petra Surabaya, NHI Bandung,  AKPAR Medan dan Perguruan tinggi lainnya.
Tim perwakilan Telkom University ini menampilkan karya olahan makanan berupa appetizer, soup dan
main
course.  Hasil karya Appetizer diberi nama Oncom Risol With Shrimp, pada Soup mereka berkreasi dengan olahan sayur asam.sedangkan pada hidangan utama (Maincourse) diberi nama vegetable chicken roll with balado sauce served with sweet potato.
Adapun juri pada ajang ini adalah chef  dari kalangan profesional  mereka adalah
Juri 1, Rudy Takarianta karnajaya, eksekutif sous chef – Js Luwansa
Juri 2, Sudarius Tjahja, Senior Sous Chef – four season, jakarta
Juri 3, Hendro Soejati, corporate eksekutif chef – horison hotels grup national chains.
Semoga dengan diaraihnya prestasi ini  dapat terus meningkatkan motivasi mahasiswa D3 Perhotelan  untuk terus semangat dan berjuang dalam mengikuti berbagai kompetisi khususnya di bidang perhotelan.
Salam Pariwisata.