KPI VIII 2017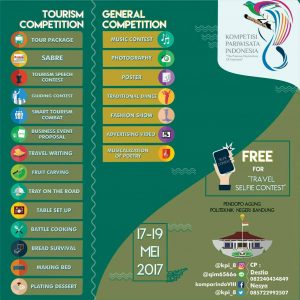 [KPI 8]
Hai, Salam Pariwisata Indonesia
Dilihat dari namanya, KPI 8 tentu saja akan menyelenggarakan event kompetisi berskala nasional antar mahasiswa seluruh Indonesia.
Kalian ingin ikut event ini tapi bukan mahasiswa pariwisata? Tenang saja walaupun namanya Kompetisi Pariwisata Indonesia tapi event ini tidak hanya dapat diikuti oleh mahasiswa pariwisata saja karena kompetisi ini akan dibagi menjadi 2 kategori yaitu kompetisi khusus untuk mahasiswa pariwisata dan kompetisi umum yang dapat diikuti oleh mahasiswa pariwisata, mahasiswa non-pariwisata, dan masyarakat umum dengan rentang usia 17-25 tahun.
KOMPETISI KHUSUS:
Tour Package                             Table Set Up
Sabre                                          Bread Survival
Tourism Speech Contest             Making Bed
Guiding Contest                          Flating Dessert
Smart Tourism Combat
Business Event Proposal
Travel Writing
Fruit Carving
Tray on the Road
KOMPETISI UMUM:
Music Contest
Photography
Poster
Traditional Dance
Fashion Show
Advertising Video
Musicalization of Poetry
Prepare yourself and be ready!
Add our social media to get more information
Instagram: @kpi_8
Facebook: Komparindo VIII
Twitter: @kpi_8
line: @qim6566o
Website: www.kompetisipariwisataindonesia.com